Congratulations to our own Brewing and Distilling Malt Sales Manager, Joe Fifield, who's been recognised for achieving the country's highest result in his industry exams!
Joe, who supports customers across London, Southern England and Wales, completed the General Certificate of Malting (GCM) last year and achieved a credit grade. The malting industry's trade association, the Maltsters' Association of Great Britain (MAGB), named Joe as its highest-scoring exam candidate for 2020. This led to The Macpherson Memorial Trust nominating him for the Association's prestigious award, the Macpherson Quaich.
The Macpherson Memorial Trust was set up in memory of well-loved and respected maltster Tim Macpherson, who, along with his wife Diedre (also known as Mouse), and their youngest daughter Iona, was tragically killed during a terrorist attack while on board an Air Lanka aircraft in 1986.
The Trust supports those who work in the malt, brewing and distilling industries to apply for financial awards for personal development, such as research and travel. Since 2017, the Trust has additionally recognised study achievements by awarding the Macpherson Quaich to outstanding GCM candidates.
Ordinarily, the Macpherson Memorial Trust presents the candidate who has achieved the highest GCM result, with the special cup, at the MAGB's annual luncheons. However, because of COVID-19 safety measures, Joe had to wait a year to receive the accolade.
Speaking about receiving the Macpherson Quaich, Joe said: "I'm honoured to have received the Macpherson Quaich; it's a tremendous achievement for me and it's something I'm really proud of.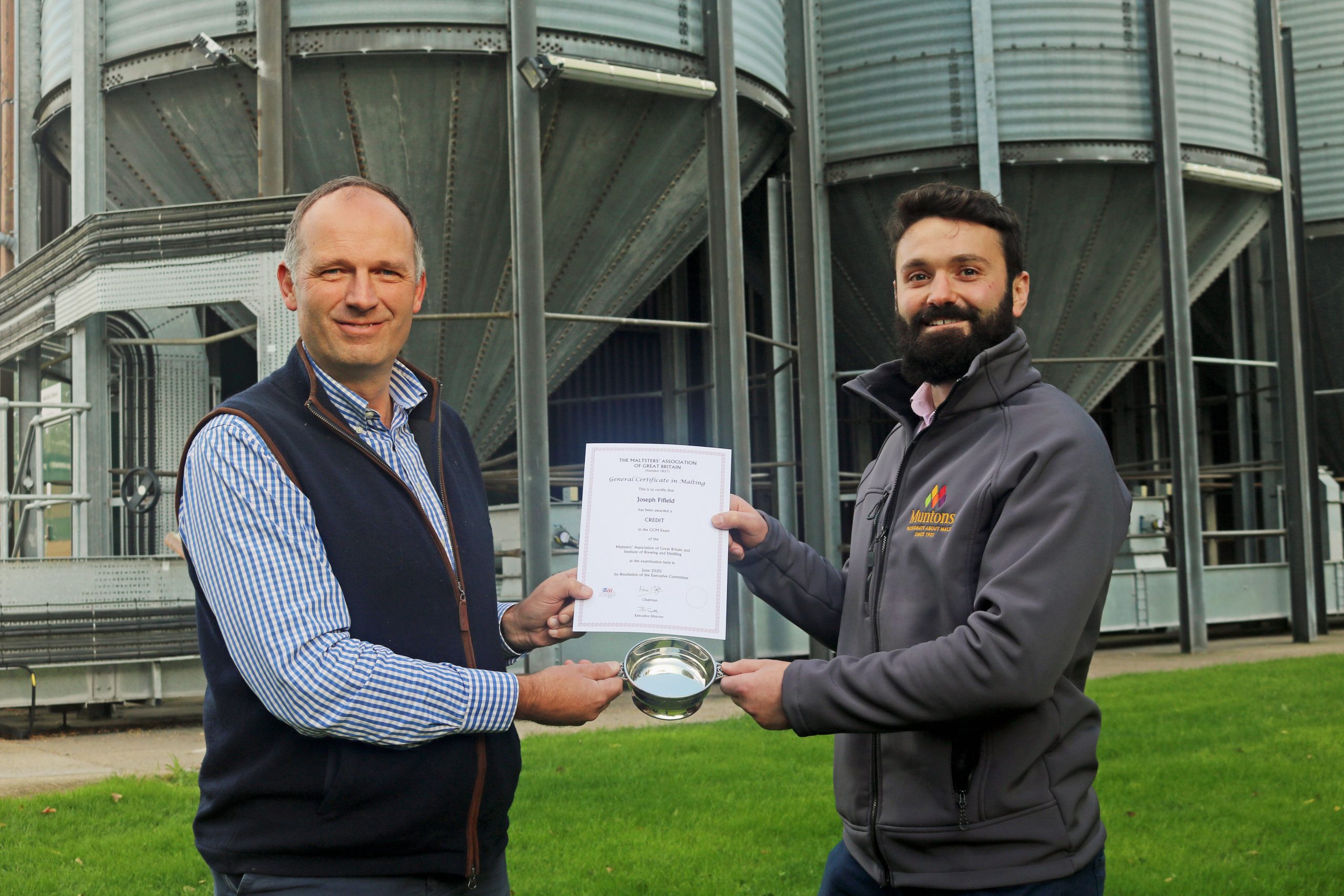 "The various lockdowns limited our planned industry visits that form part of our studies, so a special thanks
must go to my mentor George Irving, who's our Maltings Manager and leads educational development at Muntons. He continued to run sessions virtually and provided excellent support to prepare for the exam."
During an award ceremony at Muntons' headquarters in Stowmarket, Suffolk, Macpherson Chair of Trustees, Adrian Dyter presented Joe with the Macpherson Quaich.
Congratulations, Joe!