MUNTONS LAUNCHES NEW HOMEBREW RANGE 40 YEARS AFTER FIRST HOMEBREW LINE WAS INSTALLED AT FACTORY
Muntons, one of the country's oldest suppliers of brewing and distilling malts and malted ingredients, has launched a new range of homebrew kits.
The new Muntons Flagship range focuses on craft beer enthusiasts, offering contemporary beer more typically seen in the craft brewing sector with beer styles including Hazy IPA 5% ABV, Milk Stout 4% ABV and West Coast IPA at 7% ABV. Muntons' New Product Development teams worked with a group of 25 homebrewers, from those who are new to the hobby, through to experienced home beer maker.
Made with Muntons' finest quality malt extract, the new Flagship kits come packed with hops and adjuncts, including amazing flavour premium hop pellets for dry-hopping and a hop straining bag. New to Muntons Flagship, is a step-by-step instruction guide tailored to the kit style, which allows the homebrewer to have the best experience in crafting 35 pints.
The maltster, which is based in Stowmarket and has sites in Bridlington, the USA and Thailand, is celebrating its centenary this year, and 2021 also marks 40 years since it first started homebrew manufacturing at Stowmarket.
Andrew Leedham, Senior Marketing Manager for Muntons Homebrew, said: "We're delighted to bring our customers this exciting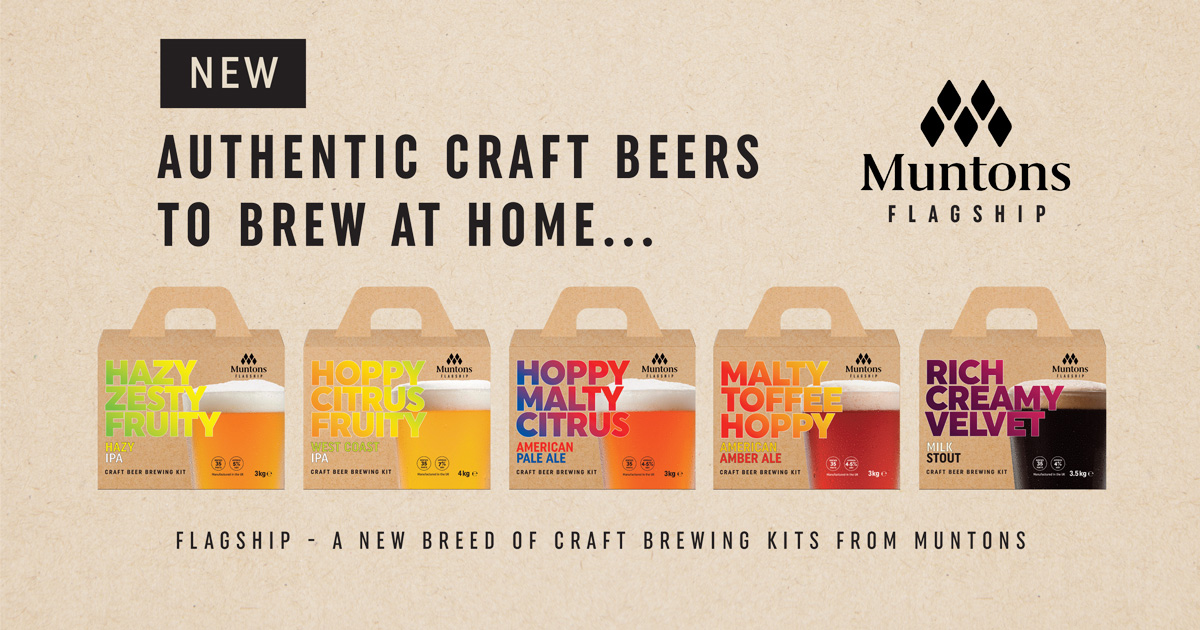 new range of quality homebrew products made with the finest British barley.
"We know from the market feedback and the demand we saw over the last 18 months, that homebrewing is thriving as a popular hobby. We're seeing a new generation of beer makers coming through and enjoying the experience, which makes it a really exciting time to be launching our Muntons Flagship range, designed to celebrate the craft."
Muntons is wildly known as an industry leader in sustainability. In keeping with its green ethos, the malt used in the Muntons Flagship kits is grown locally to the maltings in Suffolk and Yorkshire and is 100% sustainable. The packaging has been specifically chosen because of the sustainability credentials, with 90% of it being recyclable.
The Muntons Flagship range is available in UK homebrew retailers now. We invite retailers that wish to stock the range to get in touch by emailing hello@muntons.com